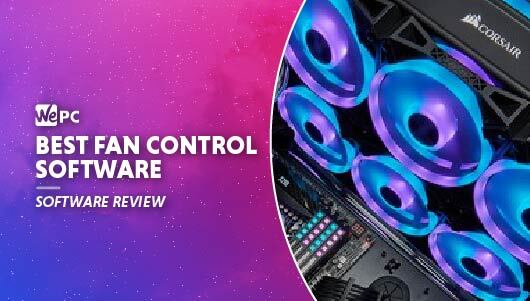 Best Fan Control Software in 2021 (Windows)
1. MSI afterburner
For many, MSI Afterburner is an essential part of the system. This versatile tool allows you to monitor your PC's internal hardware unlike many other applications, giving you full access to benchmarking your entire system.
In addition to monitoring your system hardware, MSI Afterburner users will also be able to use fan control options. This is a customizable fan controller that allows you to change the speed according to the temperature of your hardware.
MSI's Fan Control Tool is extremely easy to use, making it one of our personal favorites. Plus, with the ability to tweak a whole host of other features, Afterburner is one of our best system tools overall.
Download MSI Afterburner here
2. SpeedFan
Next, we have SpeedFan – one of the oldest fan controller apps in this guide. It dates back to around the same time as Windows 9x and doesn't lack a few unique tricks.
At the heart of this app, users will be able to control fan speeds – whatever they choose. However, in addition to this, users will also be able to monitor the voltages and temperatures of their fans, which allows for perfect optimization.
That's not all, with its ability to access both digital temperature sensors and SMART information, you'll be able to monitor other internal system hardware as well.
Like MSI Afterburner, using SpeedFan couldn't be easier. Just open the fan speed tool and start manually entering the fan speed as you need. You'll have to listen to see which fan you're controlling, but once you figure it out, it's easy.
3. EasyTune 5
As is the case with most of the apps in this guide, EasyTune 5 is more than just fan control software. This program also has a host of additional features that make it a much more versatile package.
That being said, we're only here for one feature – and that's the fan controller. EasyTune calls it Smart-Fan Control – and it gives you full access to your CPU cooler's fan.
EasyTune offers an "easy mode" for those less technically savvy – a feature few others in this guide can claim. That said, controlling your fans with this software is pretty straightforward nonetheless. Just match the CPU cooler fan speed to your desired temperature, and off you go. Remember though, try not to set your fan curve too low, as excessive heat on this component could result in decreased system performance and hardware degradation.
EasyTune also helps you overclock your CPU via two unique features aptly named CPU Intelligent Accelerator (CIA) and Memory Intelligent Booster 2.
4. Argus Monitor
For those who just want lightweight fan control software, the Argus monitor is probably exactly what you're looking for. Not only does it offer a small memory footprint, but it also offers complete control over the running speed of your fans, not to mention monitoring the temperature of your processor, hard drives, and SSDs.
Unlike some of the apps in this guide, Argus Monitor supports modern Nvidia and AMD GPUs, which is especially useful if you're into gaming. Besides, it will also help you to identify the first signs of hard drive or SSD failure. While not 100% accurate, it still provides more than enough accuracy for you to at least check your hardware (70% is shown).
With an extremely easy to use interface, in addition to its low memory demand, this tool certainly keeps your PC running smoothly when you need it most. The only downside to this great app is that it's only free for the first 30 days. After that you will have to buy it.
Get Argus Monitor here