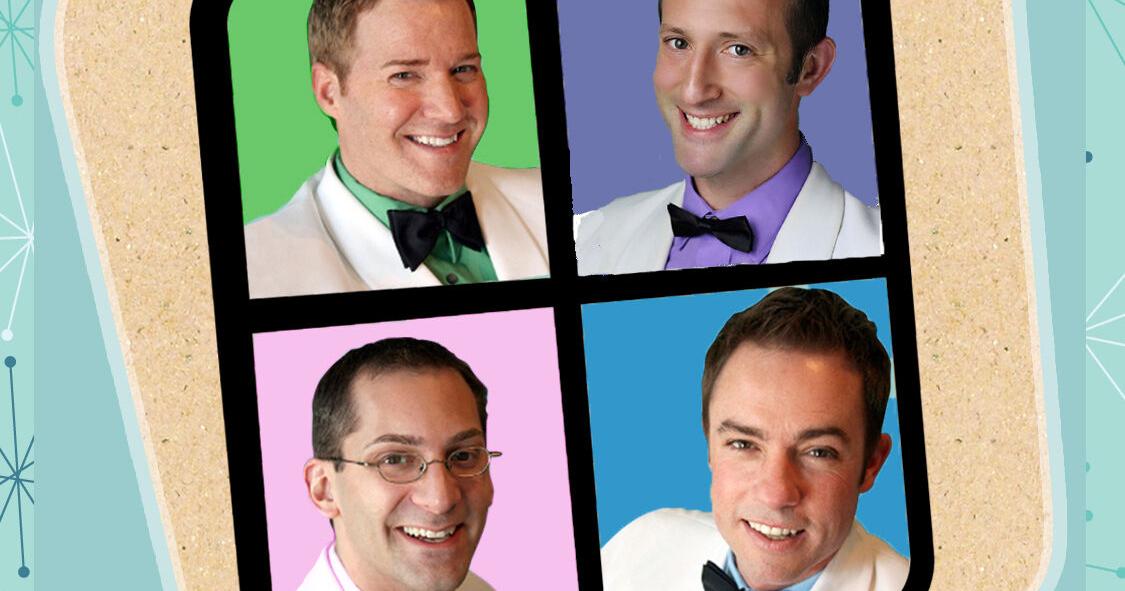 Mixes of television programs from the 1950s to 1970s, theme of the February 26 concert | Community
Fans of contemporary boy bands or classic barbershop quartets can find common ground this weekend at the next show in the Verona Area Performing Arts series, Four Guyz In Dinner Jackets.
The four guys will take the stage at the Verona Area School District Performing Arts Center at 7:30 p.m. on Saturday, February 26.
Dressed in color-coded tuxedos, they will perform their "Now In Technicolor" show – a tribute to classic TV shows from the days when black-and-white TV shows turned to color shows.
The group has been together since 2003, with only two lineup changes in nearly two decades. Today's "guyz" are Reggie Kurschner (high tenor), Tommy Lueck (baritone), Joe Fransee (lead tenor), and Aaron Schmidt (bass).
The quartet has created a variety of shows, which mix jokes, costume changes, props and sight gags with the entanglement of their voices. Their number's theme changes every few years, including "On Ice", "In Style", "A Look Back" and now… "In Technicolor".
"That theme is nostalgic music in movies and TV," Lueck told reporters. "A lighthearted take on the 50s, 60s, 70s. A great homage to old TV shows – 'Mister Ed', 'The Mickey Mouse Club', 'I Dream Of Jeannie', 'Bewitched', 'The Beverly Hillbillies'. It is based on the Boomer experience. It's visually exciting – the music is awesome.
There will be mixes of songs from different eras from the 1950s to the 1970s, featuring doo-wop music, early rock and roll, bebop and soul.
But it's also just as much a comedy, based on a kitsch story of how the guys came together, Lueck said. There will be jokes, stories, references to game shows and audience participation, he said.
There is a long history of musical quartets that the Four Guyz emulate, including The Four Aces, The Four Lads, The Four Freshmen, The Crew-Cuts and The Four Seasons. But girl groups such as The Chordettes and The Supremes are also in the Four Guyz scheme. Basically bands that like to harmonize, Lueck said. The group has roots from early barbershop quartets to more contemporary boy bands like NYSNC and Backstreet Boys, he said.
"For baby boomers and the generation before that, this show is very fun and full of nostalgia," Lueck said. "It's very choreographed with the movements of the first doo-wop, very colorful, with lots of props."
A centerpiece of the set design is an old television set from which the four guys pull out props and crack jokes about the small-screen shows of yesteryear. There are also "a lot of different costume changes" to mimic those old shows and music from different eras, Lueck said.
None of the music is original, he said. It's all the music that would have been heard on the radio or television in the 50s-70s. But the arrangements for the mixes of song excerpts from around 40 different television programs are original.
While Lueck was the band's founder in 2003, the four guys all bring ideas together. While touring one show, they write the next one. Each show they tour for about two years.
"We all take responsibility for writing different parts and collaborate to put them together," he said. "It's really a shared, collaborative, rewrite upon rewrite experience."
During COVID-19, the quartet were meeting on Zoom video conferences to brainstorm and formulated their next show – which will premiere in August – which will return to the music of Rat Pack members such as Frank Sinatra and Dean Martin, themed "a live tour of the Supper Club".
Each show takes about four or five weeks of rehearsal before debuting, Lueck said. While things have slowed down a bit with COVID-19, before the pandemic they were performing three or four times a month.
But being Four Guyz In Dinner Jackets isn't their full-time gig. Lueck teaches psychology at the advanced level in high school, Kurschner is an accountant, Schmidt works in medical technology, and Fransee works for the Department of Information Technology at the University of Wisconsin-Milwaukee.
The band started out more with traditional gigs, but has since turned their performance into a full themed show — "not just to fill the time with songs," Lueck said. And from weddings to class reunions, from the casinos of Green Bay to the Italian Community Center in Milwaukee, what started out as "just a way to keep busy on the weekends" has continued for nearly 20 years.
"I think Verona is going to really enjoy the Technicolor salute," Lueck said. "When television moved from black and white only to seeing the world through a colored lens, pop culture became so much more alive and upbeat than it ever was in black and white. I think the technology was a big change for pop culture — and metaphorically, I think, for everything that was changing at the time — jobs, productivity — whether real or imagined, it seemed like a happy time.